OANDA Review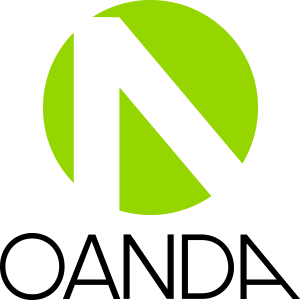 Introduction
Updated Feb, 2020
Category - Reviews
32

Views Today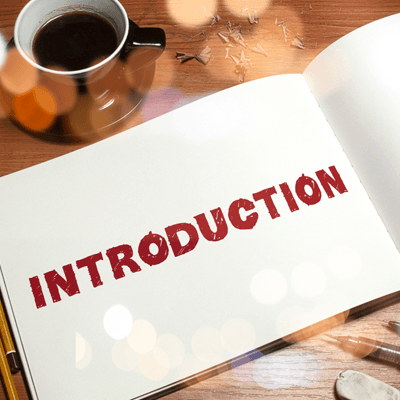 OANDA is a global CFD and Forex broker operating under the guidelines of six regulatory bodies around the world including those of the United Kingdom, United States, Canada, Japan, Singapore and Australia. From their various global offices, they now offer their services to clients in 196 countries and boast the first fully automated CFD trading platform.
Priding themselves on excellent execution and transparent, competitive spreads, they offer their CFD services based on a wealth of experience and longevity that not many can rival. Established in 1996, they have grown significantly over two decades advancing from their initial offering of spot CFDs to 124 trading instruments and corporate FX services.
Deciding whether this broker is the right choice for you can be a time-consuming process as you investigate what they have to offer when compared to other brokers. Thanks to our team of experienced and dedicated financial trading experts, we can provide a comprehensive overview of OANDA's CFD platform and what to expect from your CFD experience.
In this review, you will learn:
How to open an account and what is offered
The spreads, commission and leverage
What makes OANDA stand out from others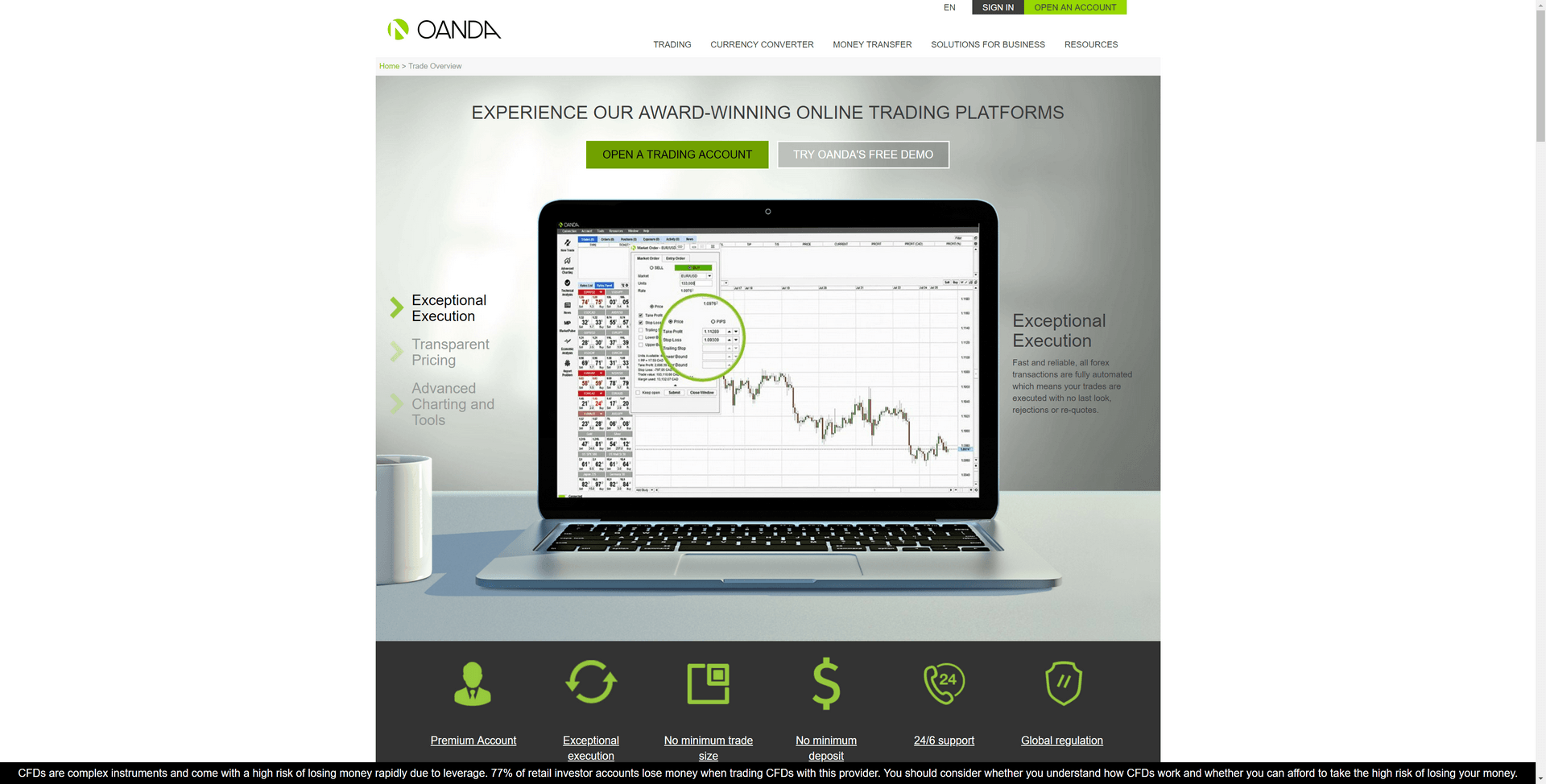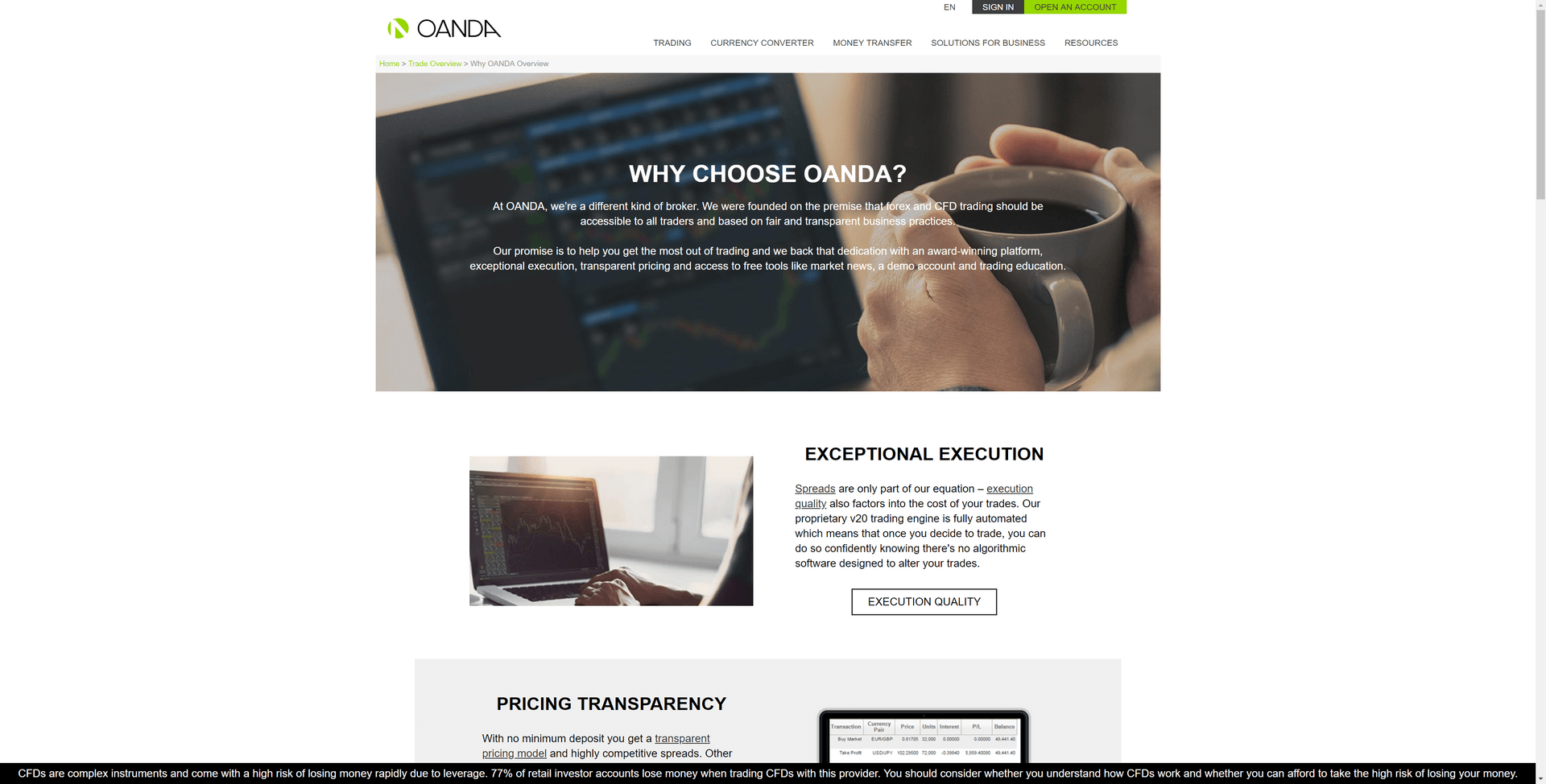 Risk Warning
/
Ad Disclosure
Risk Warning: The products offered by the companies listed on this website carry a high level of risk and can result in the loss of all your funds. You should never risk money that you cannot afford to lose.
Ad Disclosure: Some of the links that you will find on this website are advertisements for which we do receive financial gain from referring new customers.
Account Types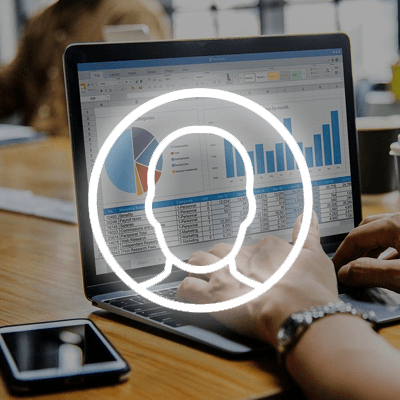 By contrast to many other CFD brokers that offer a myriad of accounts with additional perks as you increase the size of your deposit, OANDA offers just the one live standard version and one demo account. There are no minimum deposits required, a choice of trading platforms on which to do it and opening an account is straightforward requiring just a few details including name, address, telephone number, a chosen username and password.
Account
With a $1 deposit, a standard account will entitle you to trade on the live OANDA platform. While for most this is an excellent proposition, there may be some with deeper pockets who like the additional perks that higher deposits usually reap. The benefits of a "one size fits all" account is that everyone has access to the 70 market assets available to trade in along with all of the other trading benefits which include excellent educational tools.
Account
With no deposit required and no need to open a standard account first, the demo platform is available to all. For those that may expect restrictions on how long you have to use the virtual funds, you will be surprised to learn that there are no such restrictions. The demo account is available for as long as it is required.
Practise trading, perfect your strategy and get confident with virtual trades until you are ready to use the live platform with your funds. Dip in and out as you need to as you try a different strategy or experiment with other assets.
Trade Features And Payouts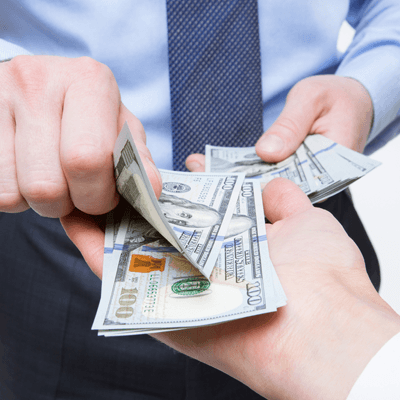 One of the major considerations when choosing any CFD broker are the trading features and payouts offered. These include the maximum leverage, the spreads and commission available. Payouts depend on the size of the spreads, which can fluctuate according to which asset you choose and volatility in the market. Offering additional features such as stop-loss orders are also a key consideration when selecting a broker.
Leverage
The leverage available with OANDA is dependent on your location and is decided by the regulator of that region. For example, in Europe, the maximum leverage is 100:1, and in Canada and the US, it is 50:1. The minimum leverage is 10:1. It is worth noting that you can employ a stop/loss order to limit your losses. When using leverage while profits can be increased on successful trades, this is also true of the money that you could lose.
Spreads
Spreads are competitive in all markets and rival other big market players starting at 1.1 pips on CFD trades. Live real-time bid and ask rates are visible on their website, and you also have the option to check out the historical spreads for the previous 7 days.
Automated software is used to monitor live prices with spreads responsive to volatility and liquidity of the market. As an example, it is reasonable to expect spreads of between 1.2 - 1.5 pips when trading oil, this can go as low as 0.7 pips for other assets.
Stop Loss
Using leverage can improve your winnings. It can, however, have the opposite effect and increase your losses. With a stop-loss order, you can minimise the risk of your trades by setting an automatic point at which you will exit a trade.
With OANDA, set up a trailing stop order which will keep the trade going as long as the price moves in a favourable position but closes as soon as it heads a certain point in the opposite direction.
Platform Types
Trading on OANDA can be executed on a choice of platforms. Initially there is the FX-Trade platform which you can use without any downloads. While a popular choice, this web-based platform does have the disadvantage of having to have several tabs opening each time you click on a link. Most will prefer that pages open within the same tab. Alternatively, you can download MetaTrader 4 on the desktop to enhance your experience.
OANDA offer a great mobile experience for those who choose to trade on the move.
Bonuses And Promotions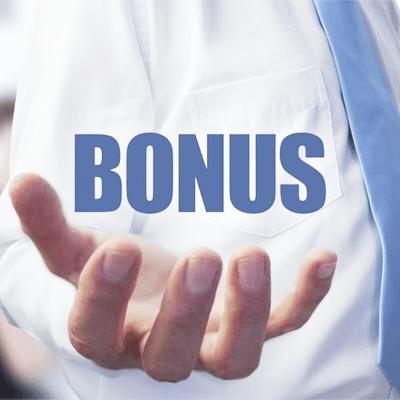 While many CFD brokers offer an incentive bonus such as a match deposit bonus for new members, you will not find any mention of any such promotion on the OANDA site. Quite simply, given the simplicity of their account structure, and the fact that you don't need to make a minimum deposit to open an account, means there is no need to add additional incentives to encourage you to join.
Add to this their long-established trading history, and it is clear to see why they are so popular with so many and can boast such a high number of clients and trades.
Mobile Trading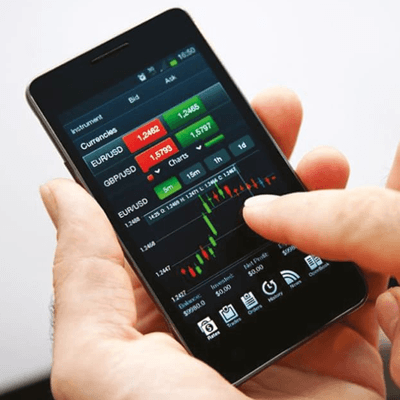 OANDA offers a great mobile experience for those who choose to trade on the move. Whether it's the responsive version of their mobile site, or their mobile apps available on iOS, Android and Windows phones/devices, you can enter and exit trades on the move.
Everything within the desktop platform transfers to the app, and once you have a log-in, you can download charts, historical data, spread history and other trading tools with ease.
Deposits And Withdrawals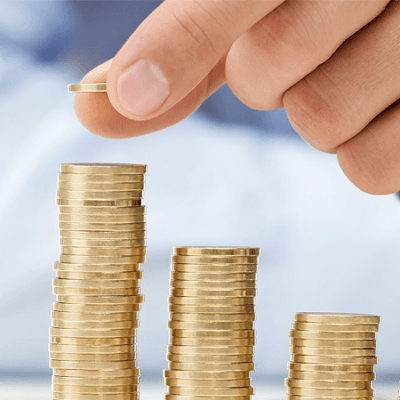 Deposits can be made using Paypal, Bank Wire Transfer and using credit or debit cards. As there is no minimum deposit required, you can determine how much you put into your trading account starting from as little as $1. Individual regions also accept other regional methods of payments which you need to check by visiting the relevant information for your specific area.
Withdrawals are subjected to a charge with one card transaction per month without charge. It is worth keeping withdrawals to a minimum to avoid these costs accumulating.
Special Features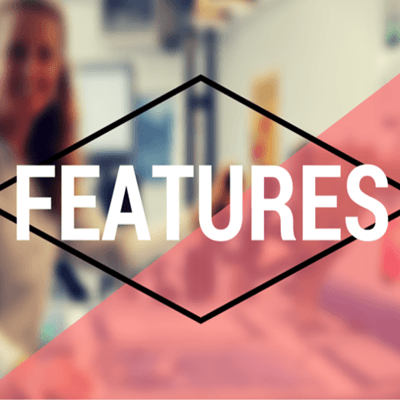 One of the stand out features of the OANDA trading experience has to be their education tools which include a variety of webinars in the form of videos, interviews with experienced traders, detailed articles and other tutorials which cover a varied range of CFD topics. There are also many news reports from a variety of sources and an increased level of safety and security.
Their offering of 71 assets along with the ability to open an account with just $1, also make them the right choice.
Trending Pages
Customer Support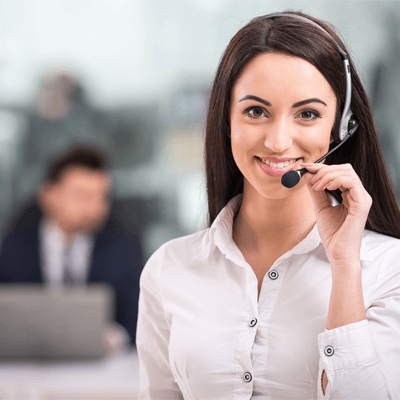 Accessible 24 hours a day, 6 days a week, the OANDA customer support is available in many different languages, including English German, Spanish, Italian and French. They can be contacted at any time of the day or night by email although holidays are an exception. Phone support and live chat are also available and can be reached on either the desktop or mobile app. To discover the relevant contact number for your country, you need to visit their contact page.
Here are the contact details for OANDA:
Email - [email protected]
Phone - +44 0203 151 2050
Address - OANDA Europe Limited, Tower 42, Floor 9a, 25 Old Broad St, London, EC2N 1HQ, UK
Conclusion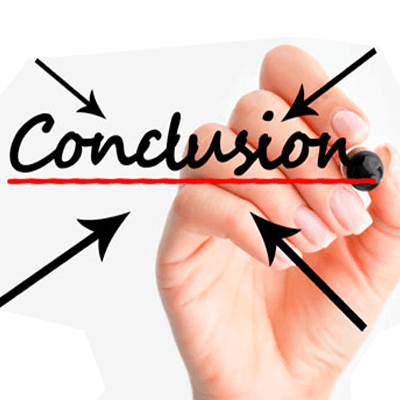 In summary, there is a lot to like about this broker, starting with their long-standing solid reputation which spans 2 decades. Then there is the fact that they operate within the guidelines of six various regulatory bodies around the world. Add to this the fact that they are so accessible to new traders that want to try out the platform before they commit real funds.
With a free demo account and trading from as little as $1, the spreads are right, the leverage is controlled, and the variety of assets make this CFD broker an attractive proposition for many. With round the clock customer support available in many different languages, they offer a competitive and robust offering for both new and experienced traders alike.
Risk Warning
/
Ad Disclosure
Risk Warning: The products offered by the companies listed on this website carry a high level of risk and can result in the loss of all your funds. You should never risk money that you cannot afford to lose.
Ad Disclosure: Some of the links that you will find on this website are advertisements for which we do receive financial gain from referring new customers.
Meet The Author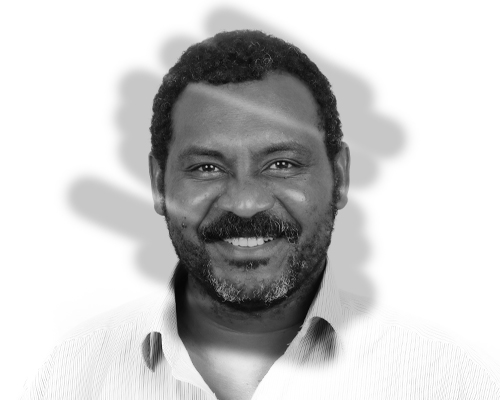 Charles Adomako
Finance Manager
Charles has worked at brokers since he finished his studies at university. Starting as a Junior Trading assistant and progressing into a Business Development we're delighted that he's been part of the team since 2015.
Related Pages
Popular Pages

Other Investing

More Info