Pepperstone Review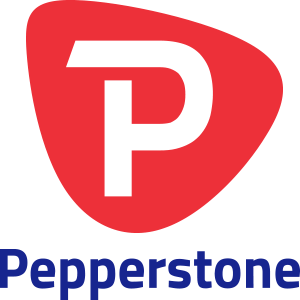 Introduction
Updated Mar, 2020
Category - Reviews
30

Views Today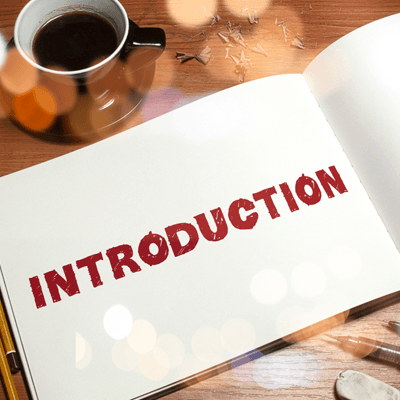 Established in Melbourne, Australia in 2010, Pepperstone Group Limited quickly became one of the world's largest CFD and Forex platforms. In 2016, their UK entity was launched to provide the UK and European clients local access to their CFD trading services. Licensed and regulated in the UK and Australia, their platform is built on award-winning software and offers 59 market assets.
Pepperstone was created by experienced traders for traders. With a well-reputed customer service offering, they are committed to providing the kind of trading that you would expect from a quality broker. There are two different types of CFD account with the addition of a free demo for those that want to try them out before depositing funds.
For you to decide if this is the broker for you, our team are well-educated traders who know what to look for. They test all aspects of CFD trading to ensure that the information we provide helps you to make an informed decision. The detail in the following review is designed to enhance your CFD experience.
In this review, you will learn:
The various account types available to traders
Special trading features offered by the broker
The kind of mobile experience you can expect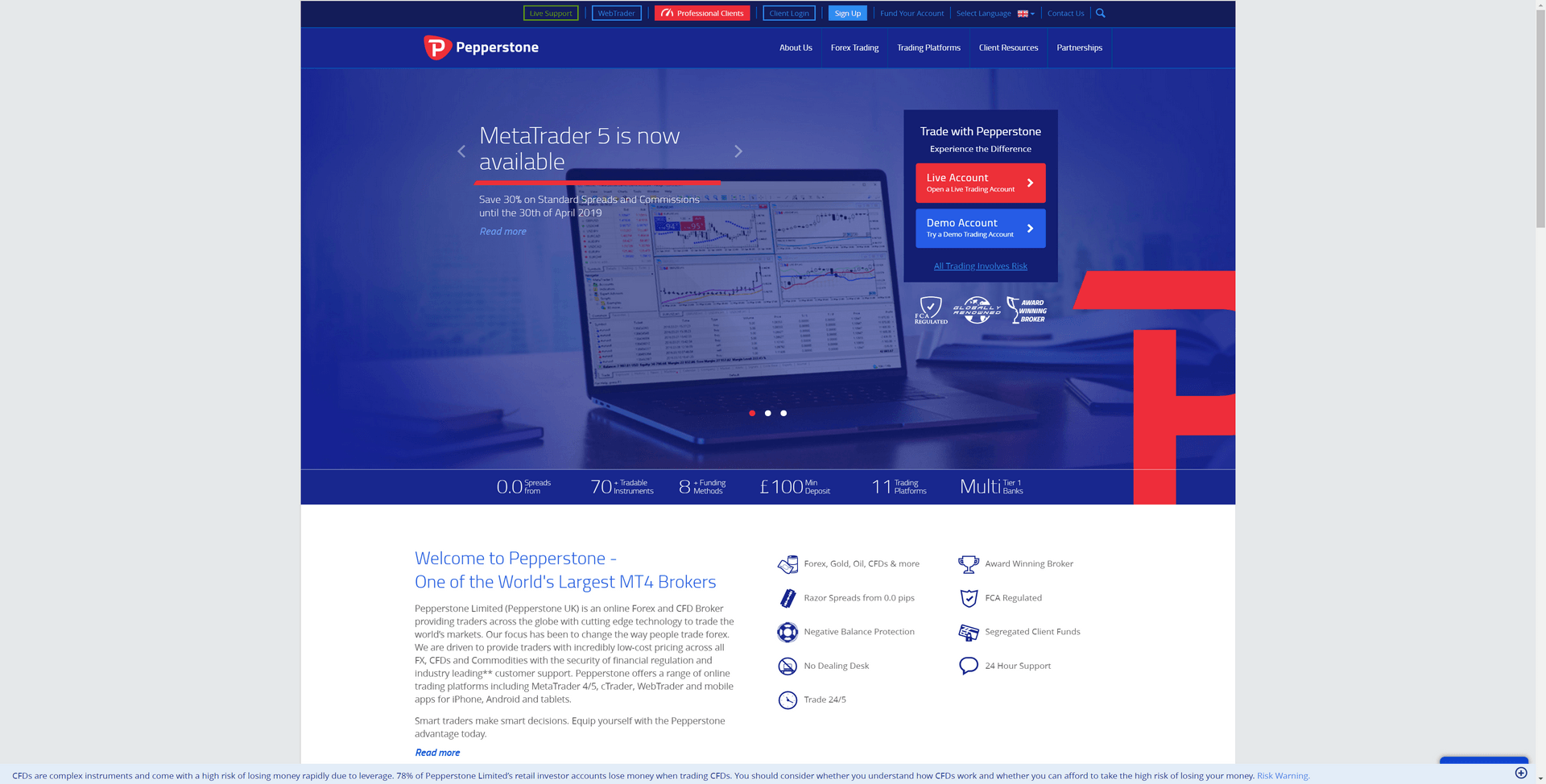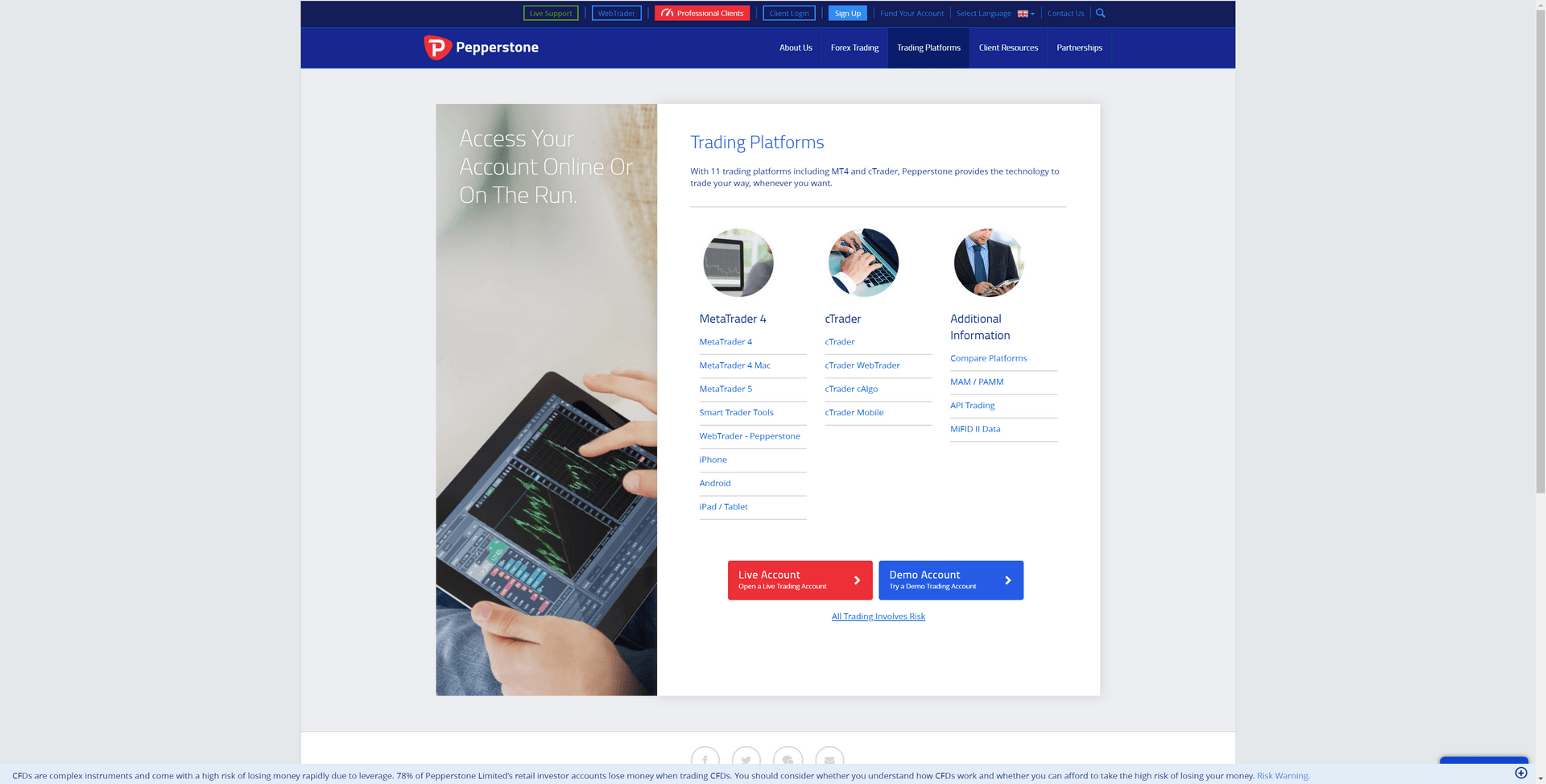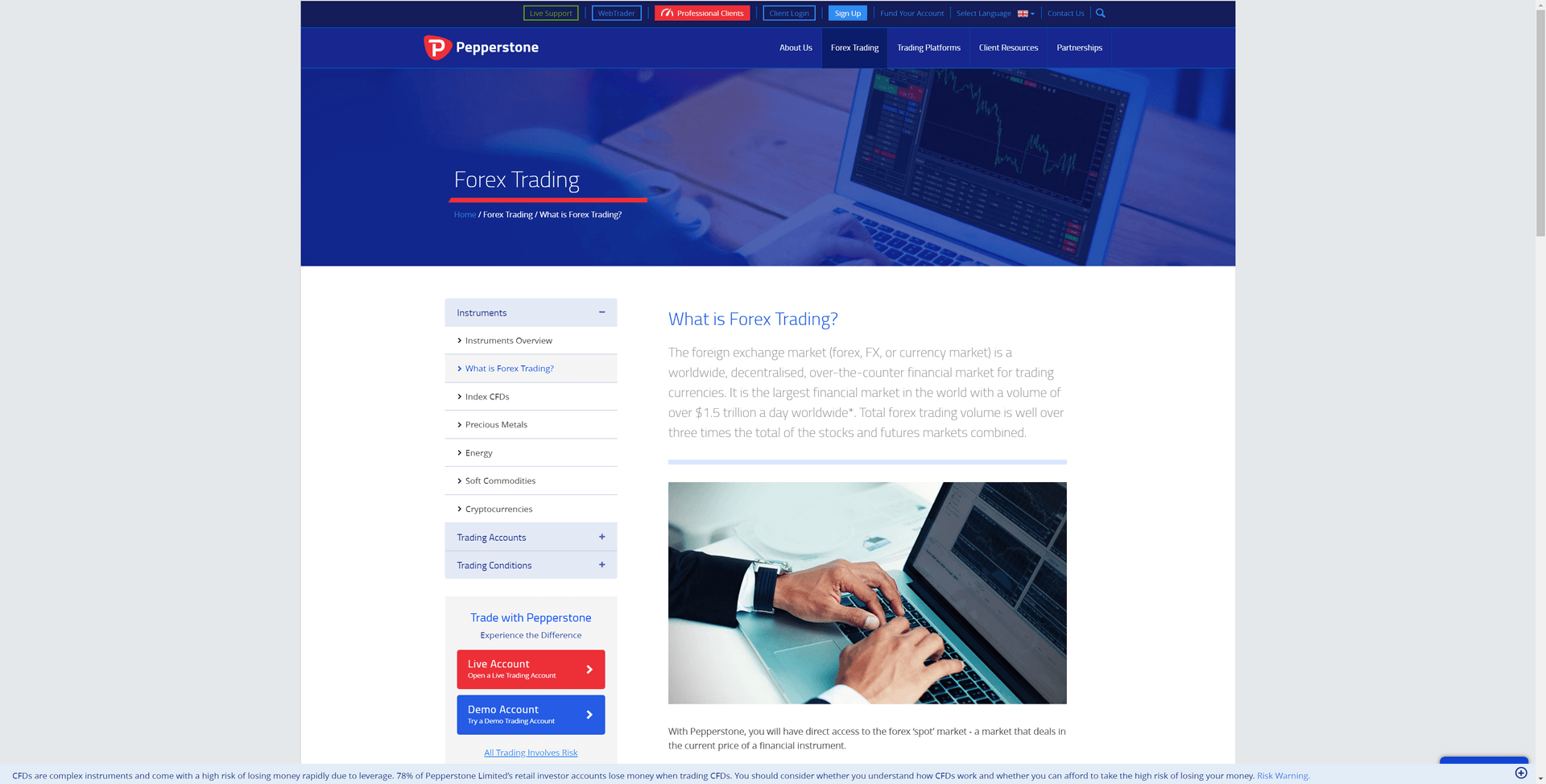 Risk Warning
/
Ad Disclosure
Risk Warning: The products offered by the companies listed on this website carry a high level of risk and can result in the loss of all your funds. You should never risk money that you cannot afford to lose.
Ad Disclosure: Some of the links that you will find on this website are advertisements for which we do receive financial gain from referring new customers.
Account Types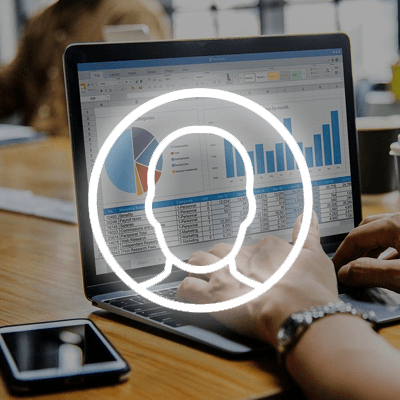 Opening an account is easy and can be done in 10-15 minutes, but it can take a few days to have your application approved. Some report as many as 4-5 days. There are two main types of account, one aimed at the new trader and one for those with more experience who trade more regularly.
To use the site, you need to enter an email address and create a password before you proceed to complete your personal information. You will then be asked to fill in a trade expertise survey before uploading your identification documents.
Standard Account
The standard account does not have a minimum deposit requirement, although you will need to deposit funds to trade. This account is recommended for beginners that are new to the world of CFD trading. You do not pay a commission. However, the spreads available are not as good as they are with a Razor account at an average of 1-1.8.
Razor Account
For the more experienced trader, the Razor account requires a deposit of $200. The spreads are much more favourable, however, and you will benefit from average spreads of 0-0.8%, but you will pay a commission. The Razor is more suited to those who trade more regularly with higher volume lots.
Demo Account
The demo account is free to open, and you can go to the demo account registration, enter your details and start the setup. You will then need to complete the application process in the Secure Client Area. If you click on the download area, you can then download MT4 or cTrader. Use this platform to get familiar with the site and trading, practising strategies and techniques.
Trade Features And Payouts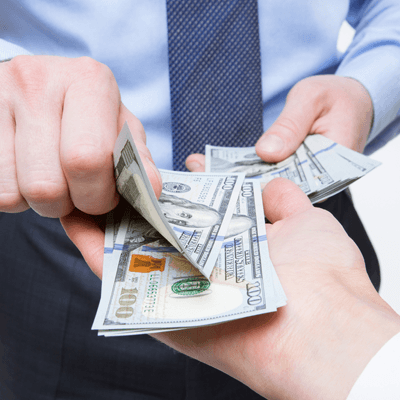 The trade features and payouts of a broker are the deciding factors for many when deciding as to whether to choose a particular broker. The main features to consider are the spreads offered, what leverage is available and the types of tools to assist you with your trading.
Leverage
Leverage for retail clients ranges from 2:1 and 30:1 and varied depending on the instrument. What this means is that when trading with $1,000, this can be leveraged to increase the trade amount to between $2,000 and $30,000.
If you are a professional client then leverage of up to 500:1 can be enjoyed. It is a great way to multiply your funds and to increase your profits, but just as you can win large amounts, you can also lose.
Spreads
The spreads available depend on whether you have a Standard or Razor account you have. With the standard version, the spreads aren't as good, but you don't pay commission. With the Razor, you can enjoy higher spreads, but you will pay a commission. Despite this you can still enjoy higher profits on the spreads with a Razor account.
Stop Loss
The Stop Loss order is essential for those who want to limit their exposure and close a position when the price of the trade starts to head in the wrong direction. It is set at a predetermined position that, once reached, means the position will close. In addition to this type of order, there is also the trailing stop which moves with the trade as the price fluctuates.
Platform Types
Trading is available on the popular MetaTrader 4 and MetaTrader 5 platforms as well as the cTrader platform, WebTrader and mobile. There is no proprietary software; however they do have an exclusive client area. Whether you wish to trade on the move or from a desktop, the platform offers automatic execution with everything you need to enjoy a positive experience.
Pepperstone Group Limited quickly became one of the world's largest CFD and Forex platforms.
Bonuses And Promotions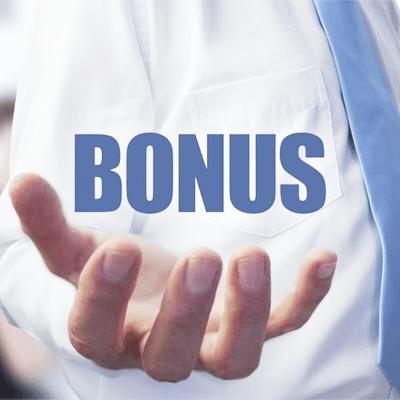 It would seem from our research that from time to time, the site offers a first deposit bonus; however, at the time of writing this (Jan 2019), there were no welcome bonuses available. There are refer-a-friend incentives of $100.
For you to receive the bonus (which is not limited to just one referral), the friend must make a deposit and trade a certain number of lots. You will then be rewarded with a bonus of $100 in your trading account.
Mobile Trading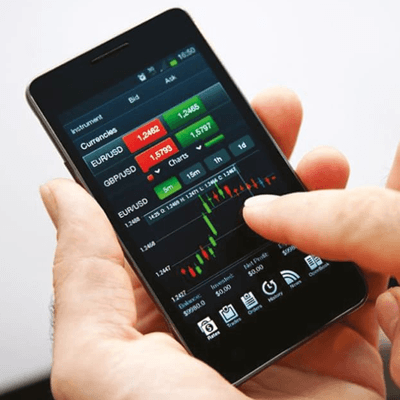 You can trade with Pepperstone in Forex and CFDs from anywhere using the mobile trading apps MT4, MT5 (MetaTrader4/5) or cTrader, which are available on most Android and iOS gadgets. The platform used to run these apps is straightforward to use and is much like those offered by well-known brokers, all of which use the same Forex trading software. You can customise the platforms to suit the way that you like to trade, quickly identify market movements to give you the best trading opportunities.
Trading on the go gives you all of the features and benefits of the online platform and more. These features include deposits and withdrawals, quick trading options and an EA (expert adviser) function and charting tools that offer technical analysis giving you the ultimate trading experience with your Pepperstone account. If you want to keep an eye on your trades, you are also able to set up alerts so that you know about trading opportunities in real-time as they occur.
Pepperstone also offers you live support via the mobile trading platforms with live chat open 24 hours a day so that if you need assistance with your trades or any of the features of your account, you get it there and then, wherever you are.
Deposits And Withdrawals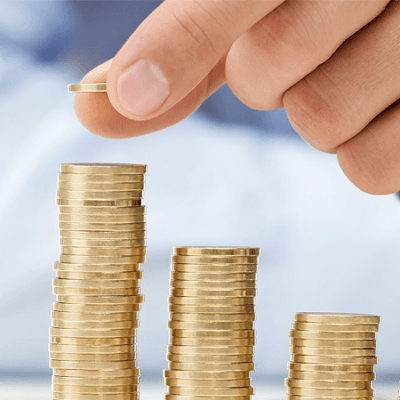 There are many ways in which to fund your account including Verified by Visa, credit and debit card and Neteller as well as other e-wallets and bank transfer, although some of the less popular methods of depositing funds may be subject to a transaction fee. When making a withdrawal, as long as it is made before 21:00GMT, it will be processed that day.
When making a withdrawal to a credit card, you must only withdraw the amount you deposited using the same card. Any other amount needs to be withdrawn to an alternative source which must be in the same name as your CFD account.
Special Features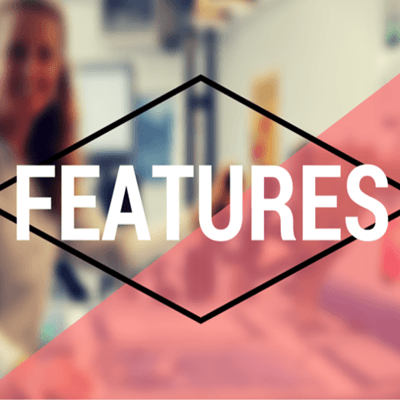 For regular, high volume traders using a Razor account, there is an Active Trader programme which offers rebates starting from $1 per lot. If you are trading anywhere between 200 and 500 lots a month, this equates to a refund of $200-$500. Other special features include the sheer number of platforms that you can choose with an extensive choice of 11 in total (including mobile apps).
There is also a specific Client Resources section which is built on proprietary software and includes lots of useful educational information.
Trending Pages
Customer Support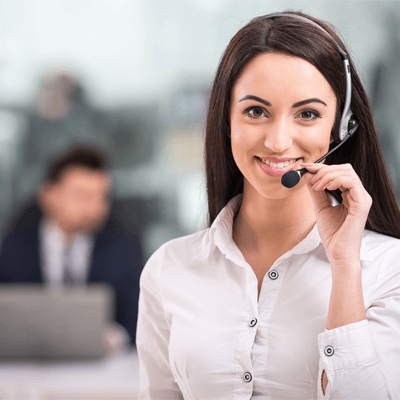 Pepperstone has an award-winning customer support offering. They offer 24-hour live chat, 24-hour phone support and a general enquiries e-mail support address. The location of their offices is also highly visible, and they use maps on their contact page to show you where their London and Melbourne offices are.
When reading information from various sources, it is clear to see that their customer service is well-reputed and that they offer a personalised and efficient service to their clients.
Here are the contact details for Pepperstone:
Email - [email protected]
Phone - +61 039 020 0155
Address - Pepperstone Ltd, 68 Hanbury Street, London, E1 5JL, UK
Conclusion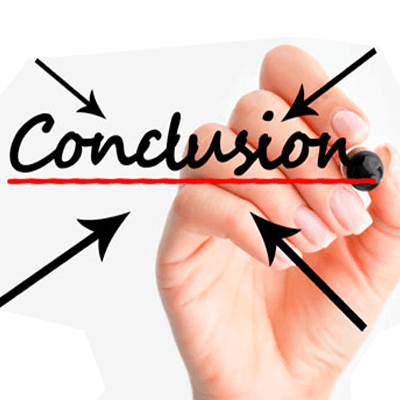 There are many reasons why Pepperstone are a good choice for both new and established CFD traders looking for well-rounded trading experience. They tailor their accounts to both beginners, that are new to the world of CFDs, and those that are more accomplished and they offer different benefit to both sets of clients. Their customer support offering is good, and they offer a choice of popular platforms.
There is a free demo account complete with software to try before you buy. When trading with Pepperstone, you can be confident that with their FCA and ASICS licencing and regulation that your money is in safe hands. We have no problem in recommending this particular broker to give you an excellent all-round CFD trading experience.
Risk Warning
/
Ad Disclosure
Risk Warning: The products offered by the companies listed on this website carry a high level of risk and can result in the loss of all your funds. You should never risk money that you cannot afford to lose.
Ad Disclosure: Some of the links that you will find on this website are advertisements for which we do receive financial gain from referring new customers.
Meet The Author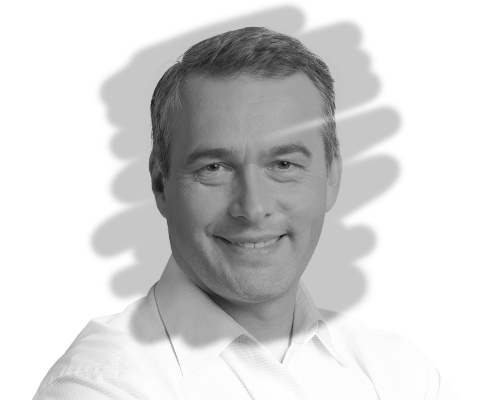 Shane McCormick
Money Manager
Shane's contributions to the site have proven incredibly popular, and he's been with us since 2014. Having a background as a Money Manager for five different brokers, three of them household names, it's clear that Shane has the substance to back up the knowledge he shares.
Related Pages
Popular Pages

Other Investing

More Info